Piranhan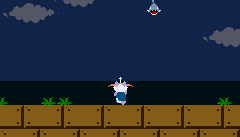 You are granted three lives in which to take down a limited number of piranhas (around 20) with arrows. Each piranha reaps 20 points when shot on the ground, but 100 points when shot from the air. Piranhas will also attack faster as time goes on. Surviving the onslaught is one thing, but score chasing is another entirely.
The game was co-created by Pixel in Unity as part of a live coding session.
Links and Downloads
Music
You can download the whole soundtrack in mp3, flac, or ogg formats or download individual tracks from the list below.