Kero Blaster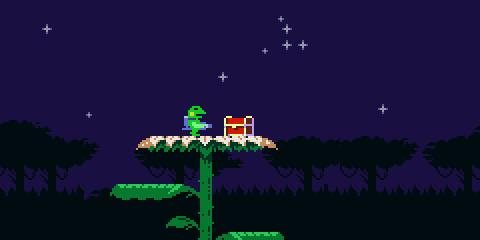 In Kero Blaster, Pixel's first full mobile offering, you control a frog working for Cat & Frog, a teleporter company. Armed with a peashooter and trained in the custodial sciences, he must venture forth to clean the teleporters of strange black "things". Find new blasters and upgrade them with coins, defeat bosses, and persevere in an epic quest to earn less overtime!
The game is reminiscent of Cave Story, but very much its own beast:a level-based, linear shooter to Cave Story's guided exploration. It has fantastic music and gameplay, and the graphics, though simpler, carry the same charm as Pixel's other works. It was designed for iOS (with a notably unique control scheme that makes moving and shooting a breeze) and is available on the App Store, but you can also buy a PC version from Playism. Though it's a shorter game, the well made levels and a few secrets and bonuses lend a lot of replay value. As the first new title that Pixel has released in half a decade, it's on par with Cave Story, and well worth a try.
Weapons
Pea Shooter
Your first weapon. It's better than nothing.
10 Coins to upgrade to Repeater.
Repeater
This upgrade allows you to shoot farther. It's a start at least.
500 Coins to upgrade to Lazer.
Lazer
The lazer upgrade is a focused attack, so it is effective against even the toughest enemies.
800 Coins to upgrade to Lazer Uzi.
Lazer Uzi
This increases the lazer's rate of fire! This is the most powerful weapon you can get.
Death Beam (unused weapon)
(this weapon can only truly be obtained through hacking the game)
Fan
Features a wide spread so it's easier to hit enemies. Retains its power underwater.
30 Coins to upgrade to Wide.
Wide
This will increase the size of bullets. Great for clearing out the small fries.
300 Coins to upgrade to Quad.
Quad
This is a scatter shot with 4 bullets, which is effective even at long range.
880 Coins to upgrade to Ninja.
Ninja
These deadly shuriken will bounce off walls, making this weapon ideal for tight spaces.
Bubble
These bullets roll forward for a long distance. They are also buoyant, so they float on water.
150 Coins to upgrade to Balloon.
Balloon
This increases overall damage, and is the best weapon for shooting downhill.
800 Coins to upgrade to Star Mine.
Star Mine
Increased travel speed and rate of fire. For all the bubble lovers out there.
Fire
This weapon is strong against cold element enemies, and cancels enemy projectiles.
100 Coins to upgrade to Burner.
Burner
This upgrade powers up the flame so it reaches farther.
603 Coins to upgrade to Melter.
Melter
This upgrade includes a fire barrier, which moves forward after you stop firing.
Kuro Blaster 1
A mysterious weapon.
Upgrades to Kuro Blaster 2.
Kuro Blaster 2
A mysterious weapon.
Upgrades to Kuro Blaster 3.
Kuro Blaster 3
A mysterious weapon.
ペンシルズ (unused weapon)
This weapon does massive damage if it nails its target.
(this weapon can only truly be obtained through hacking the game)
16 Coins to upgrade to ラディッシュ.
ラディッシュ (unused weapon)
This weapon does massive damage if it nails its target.
Items
Jacket
This item will absorb one attack. Plus, it's warm and quite dapper!
Jetpack
You can now double jump! Explore higher and farther than ever!
Heart Jar
This will automatically replenish 4 hearts when you lose your last heart.
Bosses
Note: None of the bosses in Kero Blaster have official names. The names listed below are the internal names for each boss.

Stage 1 Boss
[Shield Plant]


Stage 3 Midboss
[Giant Mole]


Stage 4 Midboss
[Giant Mole 2]





Stage 7 Final Boss
[Plate]
Zangyou (Overtime) Mode Bosses

Stage 1 Boss
[Shield Plant]


Stage 3 Midboss
[Giant Mole]






Stage 6 Midboss
[Puddie 2]



Stage 7 Boss
[Boss Oshima]

Stage 7 Final Boss
[Last Phone]
Links and Downloads
Version History
(click for instructions on how to use the bpm patch files linked below)