Rockfish 2011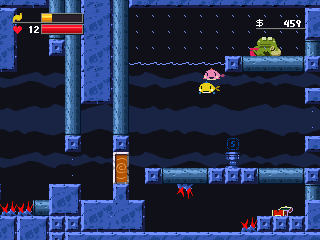 An unfinished iOS title. It was rebooted once and then was dropped in 2013.
The game tasks you, a fish, with recovering the pieces of a mermaid's pendant. The game features a buddy mechanic, plus all weapons have charge attacks.
A Windows build of Rockfish was released by Pixel on the 30th of July 2023; Said version of the game was a demo for IGF 2012.
Items
Bubble Beam
It deals little damage but has a wide attack range.
2wayBubble
It shoots two bubble beams simultaneously.
Wild Bubble
Deals three bubble beams simultaneously.
Laser Beam
It can reach enemies in distance, and destory fragile blocks.
Laser 2
It shoots two razor lines, which can destroy fragile blocks.
Missile
It explodes when reaching a target.
Canned Worms
It restores your health by 10.
Pendant
Mermaid is sealed inside the pendant.
Links and Downloads
Warning: This game is unfinished and won't ever be finished. It is presented as-is.
Music
You can download the whole soundtrack in .ptcop format here, in .mp3 format here, or download individual tracks from the list below.
Emotes
Pixel made 10 Rockfish emotes for the QVGA discord. Here are all 10 emotes at their original 128x128 resolution: