Jul 23, 2011 at 2:15 AM
Forum Moderator

"Life begins and ends with Nu."
Join Date: May 28, 2008
Location: PMMM MMO
Posts: 3712
Age: 28
Besides the
obvious reason.
It seems odd that they would be in the wall: Why would she keep them there? And are they the only pair or what?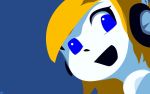 "Do you feel a draft, or is it just me?"