Dec 29, 2013 at 6:27 AM

"Wacka-Wacka-Wacka-Wacka-Wacka-Wacka-Wacka-Wacka-BLEIUP"
Join Date: Sep 20, 2011
Location: Rialto
Posts: 337
Age: 22
So, Polaris and I had a little discussion about the weight and nature of Cave Story weapons. For reference, I used real life weapons and we came up with our own ideas about how they could possibly work in the future. Assuming CS takes place in the future considering I don't have my own Quote Robot in real life right now.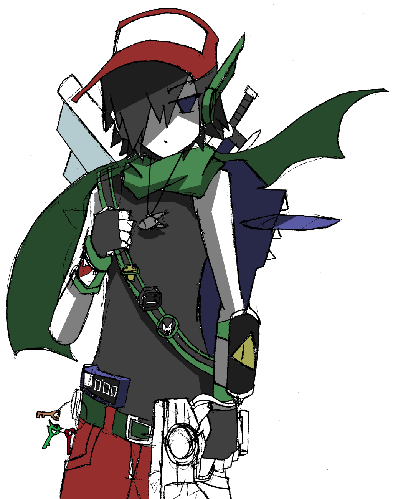 So, we're just going to do this in the order of weapons we discussed, starting with...
The Weapons
The Rocket Launcher
To note, I used the average RPG-7 as a reference for the actual launcher itself, weighing in at 15 pounds. The actual ammo of the thing can be anwhere from 2.0 to 4.5 Kilograms. To be even, I supposed they were about 3.5 Kilos (7.7 Pounds) each.
So quite possibly, Quote is carrying over 770 Pounds of equipment just by the Rocket Launcher and a max ammo count of 100.
Though, there is the more likely situation that you're carrying the Super Missile Launcher, which has a maximum of 54 Missiles, to my knowledge. Considering these Missiles probably have more materials and such to give the extra oomph and damage, we can say they're about 4.5 Kilos (9.9 Pounds), so by the time he gets to Hell, he's carrying about 550 Pounds worth of Missile Launcher and Ammo right there.
Also most RPG-7's are around Three Feet long. Seems the Missile Launcher is about the same length, or a bit shorter.
The Polar Star
I chose to compare the gun to that of a Colt Python .357 Magnum Revolver, since it is structurally similar to it. They weigh about 1.1 Kilos (2.42 Pounds). It just does seem to shoot 'traditional' rounds with no bells and whistles to distinguish it.
The Spur
Considering it looks radically different to its unfinished form, we can assume the Spur is made of sturdier and heavier stuff, considering the thing can still hold together while firing giant energy beams. The extra weight and possible length could make it round out to somewhere in the 3~4 pound range.
It's also been theorized that the actual cylinder is actually some sort of indicator of the charging feature of the gun and the possible intensity of shooting Level 1, 2, and 3 lasers, in a gauge similar to the EXP bar. Note how in the game, you can only shoot one laser at a time before shooting another. We can also say the cylinder applies to the regular Polar Star, considering you can only shoot two level 3 shots on-screen before shooting more.
The Bubbler
While traditional plastic bubble guns are around 1.40 Pounds, it has to be known that the Bubbler itself is made of sturdier stuff, considering it survived being in a fireplace for who knows how long. I'm assuming the contents of the little storage/tube it has has some weight to it, if it actually does shoot bubbles. Then again, if it can recharge ammo without some sort of extra substance to it, maybe it's just energy that is weightless.
King's Sword
Comparing the official art with several different kinds, we've assumed that King's Sword is actually a Roman Gladius. Those weight anywhere from 2.6~3.5 Pounds have a blade about two feet long. King may be strong enough to take down or subdue Balrog in one hit, but he can't really wield something as long as an Arming Sword, or a Knight's Sword, which may be a bit lighter at 2.4 Pounds, but have a blade that is averaged at 2.8 Feet long. Though, the length may or may not be irrelevant considering there is no real exact height to a Mimiga (to my knowledge). Though, if we take this at face value, the entire sword is half of King's height.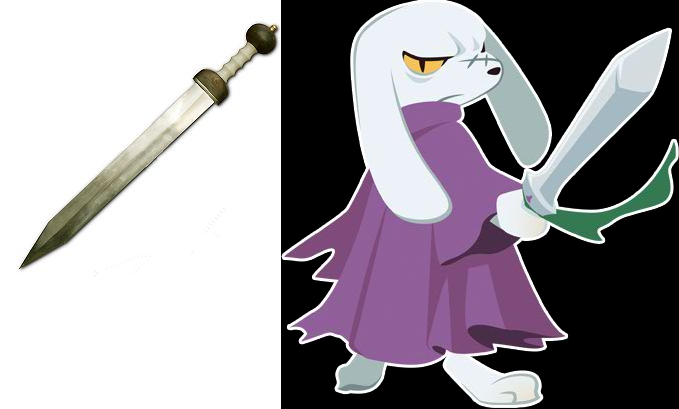 The Machine Gun
Looking at the size of the gun in Pixel's official art, the Machine Gun looks to be a bit larger than an AK47, which can weigh up to 8.7 pounds. Though, Japanese Type 11, 96, and 99 Light Machine Guns weigh, on average, 9.5 Pounds. We're using the Bubbler Ammo theory and just assume the bullets are made of energy, since there doesn't seem to be an ammo belt or cartridge.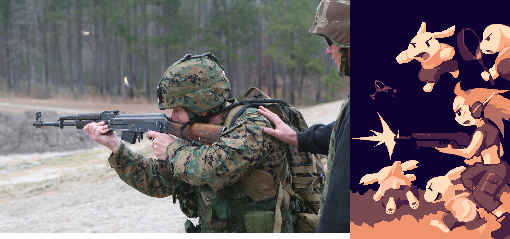 Well that's all Polaris and I had discussed about before stopping. I'm curious to see your comments and thoughts on this stuff, along with the weapons we didn't cover and all the other items Quote can carry around with him.