Nov 7, 2014 at 7:35 AM
A Reluctant Balrog's Waifu

"Wacka-Wacka-Wacka-Wacka-Wacka-Wacka-Wacka-Wacka-BLEIUP"
Join Date: Aug 5, 2012
Location: Under The Sea
Posts: 318
Age: 28

The Last Night
by Tim & Adrien Soret
A short, moody, cyberpunk adventure game in the spirit of Flashback & Blade Runner. It was originally a small flash game made in 6 days, which won the cyberpunkjam.
You can play the original version here:
http://timsoret.itch.io/the-last-night
Now the brothers have picked up the project and are making it into a full fledged game:
- Expect a 2D open world, made up of 4 unique districts each with distinct architecture, cultures and industries.
- Action & infiltration gameplay in the great tradition of cinematic platformers.
- Travel between districts using taxis, ferries, or monorail while trying to keep low profile.
- A diverse, inclusive cast of complex characters to interact with through meaningful, branching dialogue.
- Varied gameplay such as driving down epic highways, flying security drones, hacking droids to do your dirty work and remain undetected.
- Interactive, in-game multiple-choice events. In tricky situations, run away, argue to gain more time, or try to pull your gun.
- Living, simulated world with dense crowd of citizens, each one of them doing his own stuff.
Find more on their website.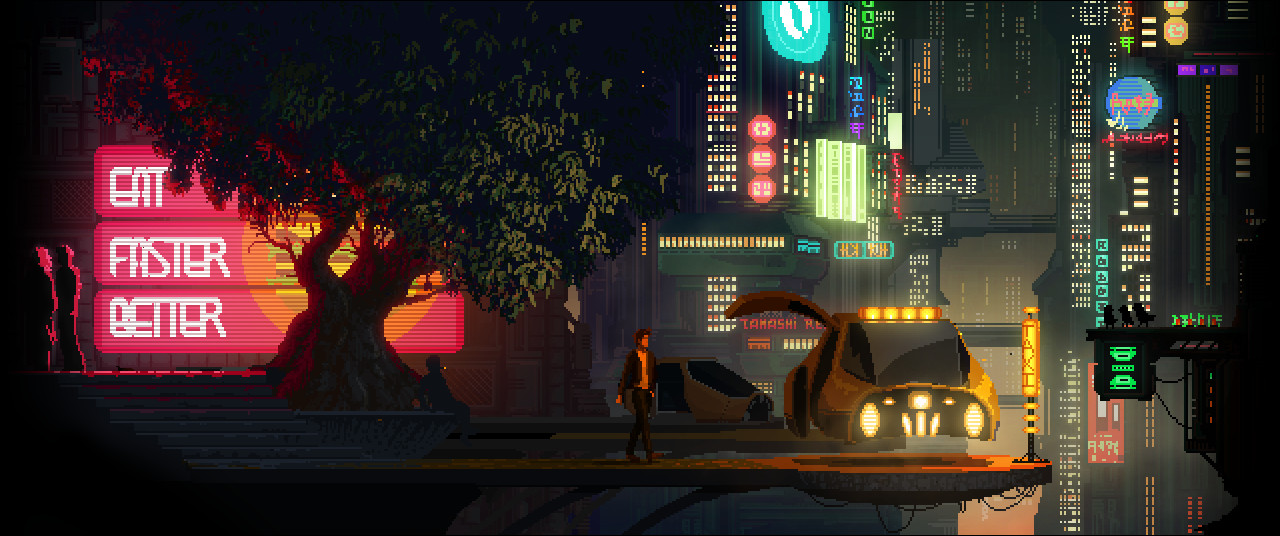 43501's note:
Unlike other games I've shared here before, I haven't actually played this one yet (am about to), but the art style and premise completely captured my imagination. It's just a short demo (a 'pilot' game, if you will) so far that has ambitions to become something fully-fledged.