Jan 11, 2011 at 3:08 AM
Forum Moderator

"Life begins and ends with Nu."
Join Date: Aug 28, 2009
Location: The Purple Zone
Posts: 6000
WD said:

Have you made cats of the cave story characters? Or are you just into the random, independent kitties that Pixel does?
I did Sue
and Quote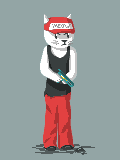 but that's it.
EDIT: By the way, the one I just did was #45 for anybody who's interested.