Apr 12, 2011 at 4:47 AM
Forum Moderator

"Life begins and ends with Nu."
Join Date: Aug 28, 2009
Location: The Purple Zone
Posts: 6000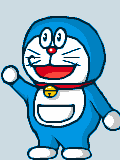 This is Doraemon. Apparently he's pretty popular in Japan. I saw it on Pixel's website one day and went on a Journey of Discovery (wikipedia).
Basically it's a cat-robot that is from the future and helps some kid. The style is a bit different than I would normally do and despite my best efforts, I still made the head too small... It was good practice anyway.