Oct 14, 2015 at 5:12 AM

"Master using it, and you can have this!"
Join Date: Jun 7, 2013
Location: Nebraska, USA
Posts: 72
Age: 20
This thread is just to collect the different achievements people are getting on the iOS version until we manage to find all ten as a whole. Out of courtesy to other people, try to spoiler tag your posts if you're adding a new achievement.
Also if you do a task in the speculated achievements and do not obtain and achievement, please let me know that as well so I can take it off the list. If you want me to add something to it just let me know.
Current known achievements:
Thanks to X-Caliber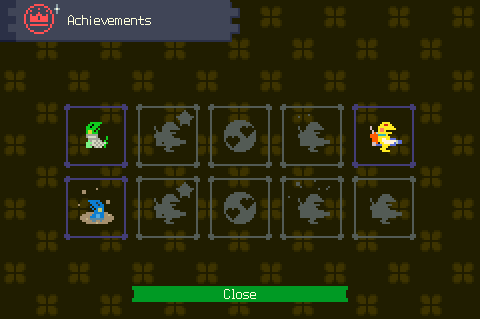 "Hard Day's Work - Beat Normal Mode
"Hot Springs - Beat Overtime Mode
"Boss Rush - Beat Extra Mode
Thanks to Froggeeness: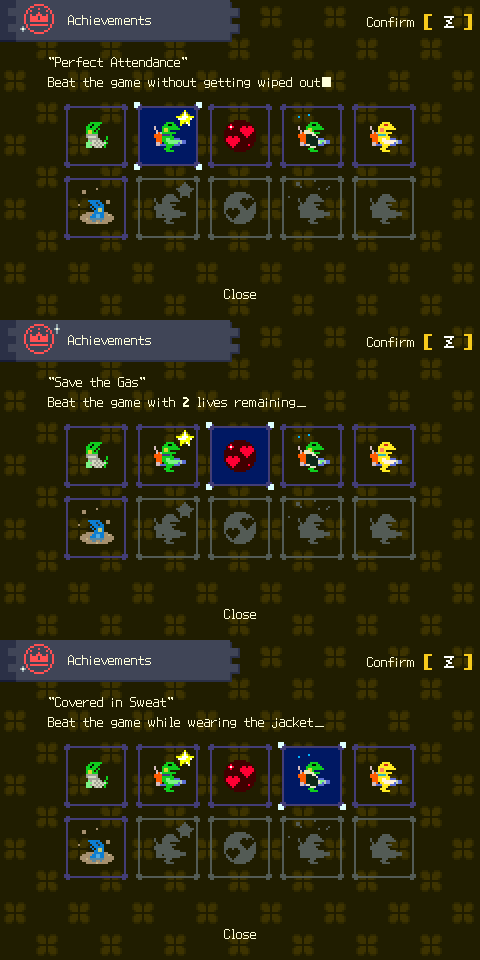 Perfect Attendance - I didn't died once so I don't know if not dying or not losing all extra Frog lives.
Save Gas - I did a 2 heart run and got this.
Covered in sweat - Just get the jacket at the last stage, don't ever get hit and beat the game, It's hard.
Speculated achievements:
-2 Heart Run on Overtime.
-No deaths (or no game overs) on Overtime.
-Finish overtime with jacket.
-Finish boss rush with jacket.

Other speculation:
The two in the fourth column look like difficult challenge ones because Kero is sweating, harder in the bottom than top
I would assume the hearts are the min health ones, perhaps one for regular and one for overtime?
If you can provide any sort of help, it's greatly appreciated! Thanks!
Last edited: