Jun 3, 2014 at 5:09 PM
I need your ideas/help/testing expertise.
I'm working on a printable card game based on Cave Story.
SMALL UPDATE 4/27/2015: Print-and-Play SOON!
Totally still working on this, guys.
I'm drawing up the PNP. Here's a little pic of prototype cards: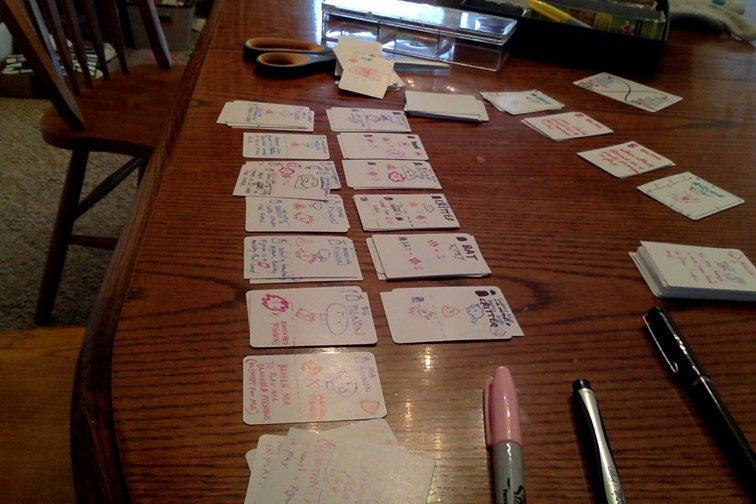 The game's changed, and changed a lot for the better. It's feeling really good, and I'm looking forward to having you guys test a bit.
PNP and FULL DESCRIPTION coming SOON!
I have a tendency to withdraw into my hovel to work for long periods of time. Please assume that this project is ongoing, even if I haven't shown up in a while.
+++
PUBLIC SERVICE ANNOUNCEMENT:
Everything below has probably changed. That's ok, it's even better now.
+++
There are a few wrinkles to be ironed out. Here's where I am right now-
Cave Story Two-Player Competitive LCG
Instructions:
Goal: You win the game by either killing the BOSS card, or if your opponent has no HERO cards left in play, whichever comes first.
Set Up
Here's an overview of the play area: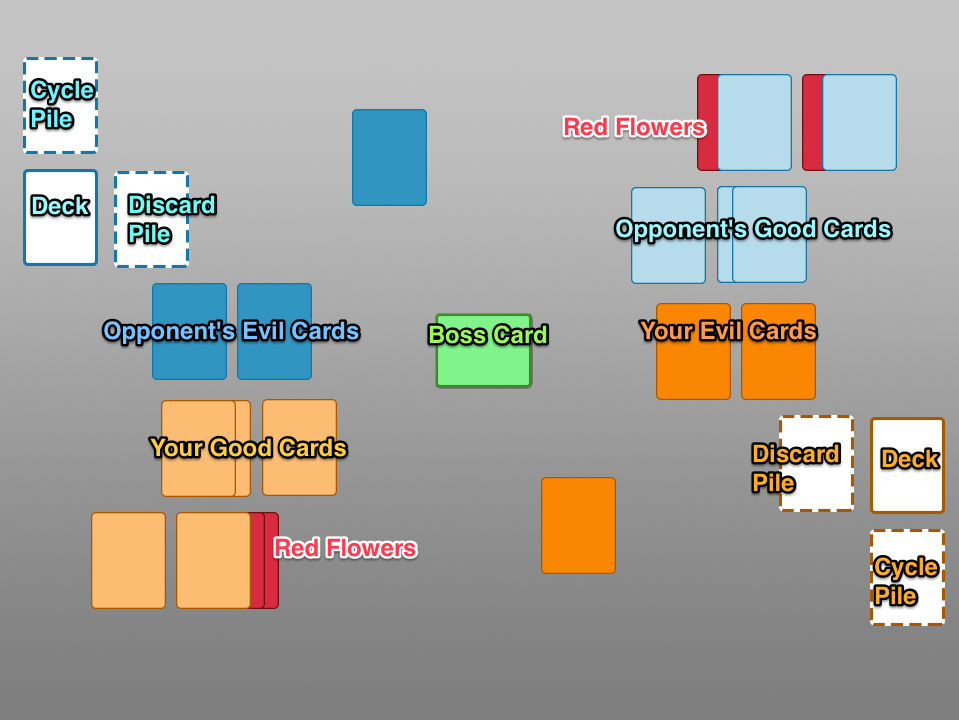 Here's a closer look at your cards:
At the beginning of the game, both players may play one HERO and one WEAPON. Note that it must actually be a WEAPON card, not an item that might happen to be a weapon. Then each player draws 7 cards into their hands, and flip a coin to decide who starts as the good player, and plays their action phase first.
PHASES
There are 6 phases to every turn of the game.
1.Good action phase
During this phase, the currant good player may play characters and play cards/use actions marked "Action Phase", adding
Red Energy
according to the
Red Energy
cost of the card.
Place Red Energy tokens on the boss card.
2.Evil action phase
During this phase, the currant evil player may play creatures and play cards/use actions marked "Malefaction Phase", removing Red Energy from the boss card according to the Red Energy cost of the card.
The evil player may also play
Red Flowers
on
any
of the good characters, but the Red Flowers will only corrupt Mimingas. Red flowers add to the red energy pool.
3.Prep phase
During this phase, both players may play cards/use actions marked "Prep Phase". The good player plays first.
4.Battle Phase
During this phase, both players resolve any battles, place any damage, and play cards/use actions marked "Battle Phase".
5.Respite Phase
During this phase, both player may play cards/use actions marked "Respite Phase". Then players determine if the battle will continue by rolling
Determination Dice
. The Determination Dice will indicate either the beginning of another Battle phase, or the beginning of the Recovery phase.
6.Recovery Phase
During this phase, both player may play cards/use actions marked "Recovery Phase". Both players may discard any number of cards into their
Cycle Pile
, and draw cards until they have seven cards in their hands.
At the end of this phase, players shuffle their Cycle Piles into their draw decks.

Good Turn/ Evil Turn
Players take turns playing Good.
Whenever a player is on their "Good" turn, they may play only Good cards, when a player is on their "Evil" turn, they may play only evil cards.
Red Energy
Red Energy is the chaos running through the island, which is soaked up by the red flowers, distilled in the Demon Crown, and concentrated in the crystal. When you defeat the Doctor (2nd stage) he erupts in a shower of Red Energy.
Whenever a player plays a "Good" card, they add a number of Red Energy tokens to the pool (on the BOSS card) equivalent to the cost of the card (see
card anatomy
below)
When a player plays an evil card, he removes the cost of the card from the pool. Once there are no Red Energy tokens left, the evil player may play no more cards, until they are replenished.
Red Energy is persistent, it does not get discarded at the end of turns, so it's in your best interest to use up as much as you can during your evil turn.

Card Anatomy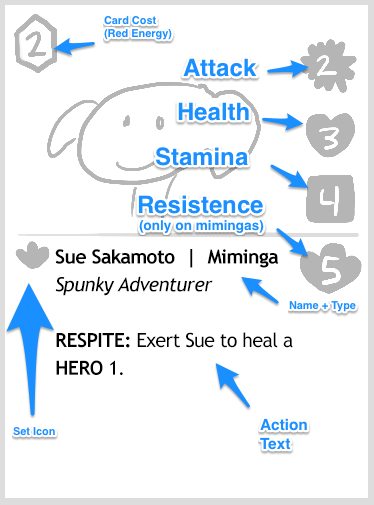 Card cost:
How many red energy to add (if a good card) or subtract (if a bad card) when you play this card.
The shape/color of this section will indicate if the card is a "good" card, or a "bad" card.
Attack:
Used when card is HERO and engaged in battles
Health:
How much damage the character can sustain. If the character has an amount of damage counters equal or greater than this number, you must discard the character.
Stamina:
How much effort this character can expend - to "exert" a character, place one stamina token on the card. If a character has stamina tokens equal to their stamina number, they are exhausted. As soon as the stamina token that causes exhaustion is placed on the character, also place a damage counter on the character.
If a character has stamina 0, they are automatically counted as exhausted, but they take no damage as a result of being exhausted.
Resistance:
Only Mimingas have resistance, it indicates how resilient each character is to the effect of the increasing levels of red energy in the world. If a Miminga has a number of Red Flower cards attached to it that are equal or greater than the Miminga's resistance, the Miminga is immediately corrupted (see
Corruption
below)
Set Icon:
This indicates what set of cards the character belongs to, and can be used to indicate a group of characters linked by a common them, e.g. graveyard characters, plantation characters, etc.

Red Flowers
Red Flowers are evil cards that can be played on any active good cards during the Evil Action phase. These cards generally buff the cards they are attached to, but also may have negative effects, and ultimately will corrupt any Miminga who has too many of them attached.
A player MAY NOT attach red flowers to any of his own cards, good or evil.
EDIT: Red flowers add red energy when they are played (thus the +1, +2 red energy icons), and then add one red energy "income" every Evil Action Phase, for the player that owns the cards. The red flowers owned by a player become inactive during the player's good turn, providing no extra red energy "income" for the other player, who only receives red energy from their own cards.
Corruption
If a Miminga has a number of Red Flower cards attached to it that are equal or greater than the Miminga's resistance, the Miminga is immediately corrupted and placed in control of your opponent.
The Miminga is counted as an "evil" card until the next recovery phase or until it is killed. In both of these instances, the Miminga is then discarded into the original owner's discard pile, and all Red Flowers are placed in the owner's cycle pile.

Battles
Only good cards with HERO may battle.
All evil cards must fight a HERO once during a round - once all battles are resolved, enter the RESPITE phase and roll to see if the battle continues (see BATTLE ROUNDS below).
In a battle, the evil creatures are fought one at a time (unless a card gives them the ability to fight multiple creatures vs one HERO, see SWARM below) the good player decides in what order to fight the creatures. If there are more than 1 HERO, the good player decides which enemies fight which HERO cards, but each hero must fight at least one battle per battle round.
Compare the attack of the HERO with the attack of the creature the HERO is fighting, and the card with lower attack takes one wound. Before the fight is resolved, the good player may play any weapon attacks for any weapon they are carrying, and either player may play cards and use any action earmarked for the BATTLE phase, if possible, Once each player has finished taking battle actions and playing battle cards, the numbers are totaled and damage assigned.
Swarm
Creatures with SWARM have the ability to team up on a single HERO. When swarming, all cards with SWARM combine their attack, and if they win, they assign damage according to the number of SWARM cards involved in the fight. If they lose, all swarm cards sustain damage normally. All cards teaming up on a HERO must have the SWARM keyword, and the maximum number of cards that can SWARM is determined by the highest swarm number of the creatures involved.
For example, if you have four cards with Swarm 1, Swarm 1, Swarm 2, and Swarm 3, you may play up to the highest swarm number, which is 3 in this case.
The good player does not decide which cards swarm: during the PREP phase the evil player may "bind" swarm cards together into groups, and then the good player must treat each swarm group as a single fight.
Battle Rounds
Place a marker on the shared "Battle Rounds" card to keep track of the battle rounds. When a round is finished and you've entered the RESPITE phase, do what is indicated in the currant phase box to determine if battle progresses or ends. If battle progresses, start another PREP phase, and continue through the BATTLE and RESPITE phases as normal.
Discarding
If a character or creature is killed, he is placed in the discard pile.
Evil: At the end of the turn, any non-HELPER evil card still alive is placed in the cycle pile.

Weapons and Experience
Every time a HERO deals damage to a creature and kills the creature while using an attack card, the weapon attacking receives 1 experience point.
Note that you may only use one weapon's attacks per fight, and you may not play the experience on any other weapon. You may, however, change weapons between fights.
When a weapon gets an amount of experience equal to the requirement on the card, the weapon is upgraded to Level 2:

Flip the card around to indicate that it is Level 2. Now you may play both Level 1 and Level 2 attack cards for this weapon.
If a hero loses a battle while wielding a level 2 weapon, the good player may prevent 1 damage by reducing a Level 2 weapon to Level 1 with no experience.
Helpers
Good:
Any card without HERO is considered a helper. Helpers may not take part in battles, unless they are granted HERO by another card. Helpers are played in a row behind the HERO row, and they act as support for the HERO cards.
Evil:
Card must have HELPER to be considered a helper. These cards stay in play, even when non-HELPER evil cards are discarded at the end of the turn.
Triggering the BOSS card
When the amount of Red Energy on the BOSS card reaches the attack value of the BOSS card, the BOSS is automatically triggered and attacks the HERO of the player who placed the triggering red energy on the BOSS card.
When the BOSS is triggered, refer to your BOSS modifier card, and perform any requirements on it.
BOSS battle
The BOSS battle rules are still under development. Winning the BOSS battle is how you win the game, but I haven't nailed down the details yet.
Concerns:
Should Red Energy be persistent?
How does the BOSS battle work?



​
​
DOWNLOAD THE GAME HERE:​
​


​
FINALLY:
I need your help getting word out there about this game. Please share with thread with other people who like Cave Story, games, and helping make cool things. Thanks for any way you can help, even if it's just a tweet!​
​
#CaveStoryCardGame is going to take over the world!
​
​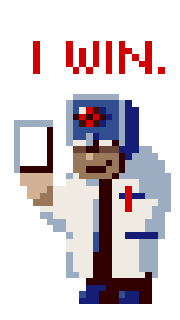 EXAMPLE CARD LAYOUT:​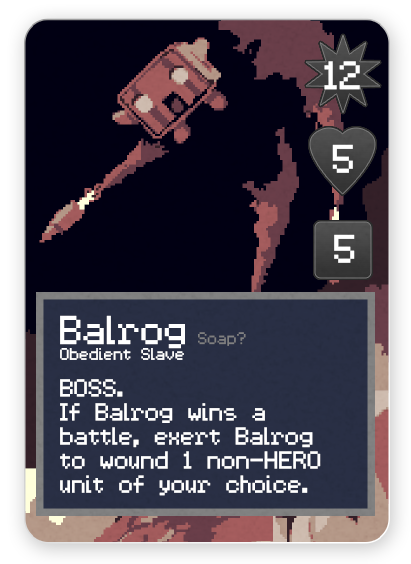 I plan on using a mixture of Pixel's art, and original cave story artists, who I'll find/work with through deviantart. It's gonna be sweet, if full-color cards ever happen.​
UPDATE: PLANS
Decks I've mocked up:
"Mimiga Wars"
Which is set in Mimiga town: it is Quote and the Mimigas vs. the Gravekeeper and Pignons, mostly.
"Egg Corridor"
This is the first set of Egg Corridor cards, the second will involve the hatchling dragons. This set is the basic Egg Corridor creatures, including Basil, Behemoths, and flying Beetles. The good side is Quote teamed up with some of the blue robots that are lying around in the Egg Corridor. It also includes the missile launcher, introducing multiple weapon wielding.
Here's more decks that I've got planned - (click spoiler)
Grasstown - Santa, Chaco, etc. vs jellies, frogs and mannan.
Sand Zone - Curly, her Mimigas, King, and Jenka vs Parrots, Skeletons, and enraged Toroko.
Labyrinth - More blue robots, Curly, and the doctor/nurse vs the Gaudi and Monster X.
The Core - a special booster with the core cards vs Quote and Curly
The Drain - Small evil booster BuyoBuyo, Fire Whirl, Fish, Fuzz, and Ironhead. A few good cards as a bonus, maybe Ikachan.

Egg Corridor/outer walls: Dragons, the sisters, timer bombs, and night spirits vs Kazuma, his dragon, Quote, and others.
Plantation: Droll, stumpy, and Midoren vs Mimigas, Momoren, etc.
Final Cave: All of the horrors of the final cave, Red Demon, Presses, etc.
Final Battle: Quote and company vs. Misery, the doctor, and the undead core.
Hell: A powerful booster for good and evil, including many bosses, like heavy press and the different forms of Ballos.
Momories: Delve into the history of the island, including characters like Arther, the killer robots, young Jenka, Young Ballos, and the previous Demon crown wearers.