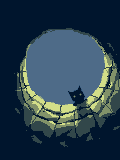 A stranger is being shown around a village that he has just become part of. He is shown a well and his guide says "On any day except Wednesday, you can shout any question down that well and you'll be told the answer." The man seems pretty impressed, and so he shouts down, "Why not on Wednesday?" A voice from in the well shouts back, "Because on Wednesday, it's your day in the well!
"
There is a poll here, with users on it. Users who you may or may not know, or like. However, if you vote for them, they are going to have to talk about themselves and answer questions that you give them. Personal questions, obviously, but nothing too personal. For instance, you might want to ask about their favourite colour, but not, say, their sex life.
They also hold the right to ignore any question that is stupid or inappropriate. If you notice one of your questions isn't answered, don't bitch about it or try asking it again.
Finally, although they are encouraged to be truthful, they can be as sarcastic and condescending as they please.
ok, start voting and shit.
you can vote for multiple people but don't vote for everyone that would be fucking stupid and get us nowhere.
Edited by sexplosive, 16 April 2012 - 03:50 AM.